Workplace Drug and Alcohol Testing
Description
Training to become an expert in workplace drug and alcohol testing.
Identify and manage people under the influence of drugs and alcohol.
People presenting to work under the influence of drugs or alcohol present a real risk to workplaces. When fitness for work is affected there is an increased risk of workplace accidents and incidents and often there is an association with reduced workplace morale and culture. Compliance with workplace safety laws can be jeopardised and important workplace contracts can be put at risk through people presenting unfit for work.
Testing can be important part of maintaining a safe workplace.
Know how to test in the workplace, and a lot more.
Know how to complete urine, oral and alcohol breath testing including confirmation testing requirements and Chain of Custody procedures.
Understand workplace drug and alcohol testing from policy and procedure, understanding legislation and choosing and using the right equipment for your program.
Understand how to implement a program and maintain testing processes of the highest standard.
Understand how to educate your workforce on their responsibilities.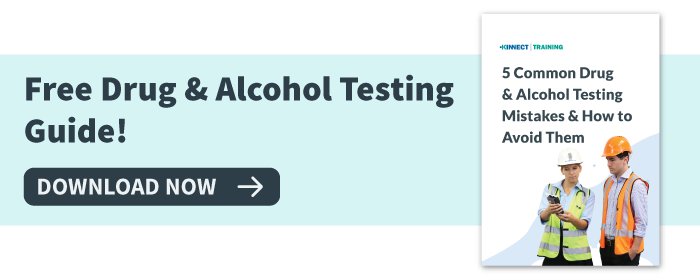 Flexible delivery options to ensure we meet your needs
UPDATE: You can now submit your workplace practical assessments via video.
Face to face – On-site – Blended
Blended

Minimise time away from work
Start immediately
Face to face webinar introductory practicals
Submit your evidence of practical sessions via video

Start immediately
Australia wide delivery – in class and on site
NEW – includes the issuing of your personal Drug and Alcohol Tester ID card
Qualification – HLTPAT005 Collect specimens for drugs of abuse testing
Testing equipment specials – do your training with us and you're entitled to great pricing on quality drug and alcohol testing equipment.
Get a commitment to your knowledge with our KINNECT Training Guarantee.
How to get started
Follow the links below to find a course that suits you or read on for more details about the course and the options for delivery – face to face, blended and in-house.
Not ready to confirm just yet but want to stay in the loop? Complete the enquiry form below and we will keep you updated on the course details or send us a message if you have a question.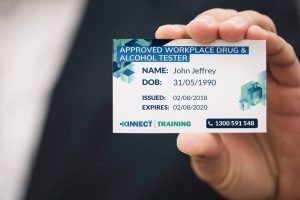 The KINNECT Training Guarantee
KINNECT Training wants you to be confident and capable in your role in workplace drug and alcohol testing. Within 12 months of completing your workplace drug testing course you can confirm your knowledge and skills with KINNECT Training. You are welcome to come to attend any scheduled public face to face course for Workplace Drug and Alcohol Testing – it's on us!
Need Drug and Alcohol Testing Equipment or help with testing processes?
KINNECT Training is pleased to announce that we can assist with the purchase of high quality and reliable drug and alcohol testing equipment and have this available in the training program.
If you and your organisation are new to workplace drug and alcohol testing KINNECT Training can assist with policy, processes paperwork and equipment. Will can assist with all that is needed to get started and will provide ongoing support to help maintain high standards in your testing processes. Call 1300 591 548 for more information.
What Will I Learn
Managing the safety and health of people at work can be challenging, costly and time consuming and could have direct cost impacts through reducing the chance of a workplace incident. Being able to quickly and effectively deliver or manage Drug and Alcohol Screening programs allows workplaces to significantly impact the health, safety and wellbeing of your workplace. Having the right skills and knowledge to deliver and arrange these programs is imperative.
Understanding of relevant Australian Standards and Legislation
How to perform a Saliva Drug Test
How to perform a Urine Drug Test
How to perform a Breath Alcohol Test
Practical, hands on application of drug and alcohol testing skills
Understanding of drug and alcohol testing related issues and how to deal with them (communication, employee reaction, considerations for policy and procedures)
Face to Face
1 DAY COURSE (APPROXIMATELY 8 HOURS) Includes hands on practical application of drug and alcohol testing Includes Free Lunch Conducted at one of KINNECT's Training Facilities or at your Workplace
Blended Delivery Program – 2 options to complete
"I love being able to access the majority of learning online" 10/10 – Mark H. Brisbane, November 2019. Study when it suits you. This course is also available in a blended format by completing online course theory through our learning management software. Once ready, either book a time for a face to face practical session or we can arrange for you to complete in your workplace with your supervisor*. This method of delivery allows you to get the valuable theoretical background and get to apply your knowledge in a practical way. Option 1 – Online and face to face practical Complete the online theory content and assessment (allow 4 hours online, access anytime and complete when it's convenient to you), Book your practical face to face component at our offices (allow 1.5 hours) Option 2 – Online with workplace practical or video submission Complete the online theory content and assessment (allow 4 hours online, access anytime and complete when it's convenient to you). Book a 1 hour webinar / Skype introductory session with our trainers and complete you practical activities in your workplace with you Supervisor or submit your assessments via video to our Assessor. *Supervisor requirements – the activities undertaken in the workplace need to be supervised by a person currently working in a collection role for at least 18 hours in a fortnight time period. A declaration of the activities being undertaken is required. As part of the commitment to you the student, if at any stage you feel the online is not what you are looking for you can switch into a face-to-face session.